I like to think that my drawings are made in this way: a bit of sudden inspiration, a lot of passion, lots of blank pages, some hearts, a pencil and a cute puppet. I'm behind them, but in reality my drawings have a mind of their own! It's like working in a trance, I'm aware of them only at work finished.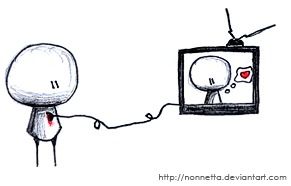 My puppet is called
Num
, pronunced ['Num].
He's a little plushie guy, alone in the world, with too many dreams and a very big heart. But his greatest dream is to find someone to share his life with, to know love.
He isn't scared easily, due to a bit of too much naivety. Although his worst fear is to remain alone, to be hurt again and again.
Also, he's ruled by emotions and befriends every kind of creature, from mushrooms, to pigs, to carnivorous plants.
(
Usually I draw with...
Collapse
)
(
. Where to find Me
Collapse
)
Current Mood:
confused
Current Music: She's the one - Robbie Williams